Easy Canned Salmon Mediterranean Salad
Easy Canned Salmon Mediterranean Salad is a family favorite! Full of freshly chopped vegetables and a creamy dill lemon mayonnaise dressing! This colorful, healthful salmon salad is a perfect meal prep recipe.
My Family Experience with Canned Salmon Salad
My husband wanted to call this Canned Salmon Salad Key Biscayne Beach Salad as it was a fam favorite growing up in Miami. Mom would whip this up and put it in a large glass jar. We would place it in the cooler full of ice and eat it with crackers on the beach after swimming. I remember dipping into it with Saltine Crackers or Pita Bread. Yum! It brings back beautiful memories of swimming and a young and innocent time. Nowadays, I make this simple healthy lunch for my family. I can prep this on Sunday and have something ready for several days.
I love eating Salmon for its healthy heart friendly Omega 3 fat. According to American Family Physicians "Fatty fish, such as salmon and tuna, and fish oil are rich sources of the omega-3 fatty acids eicosapentaenoic acid and docosahexaenoic acid".
Salmon and all Seafood are anti-inflammatory and delicious. This recipe with all the fresh vegetables is perfect for a Mediterranean Diet.
INGREDIENTS FOR THIS EASY SALMON SALAD
Salmon – I used Wild Planet Wild, Alaskan Salmon. It's sustainably sourced and delicious. My niece just got her Master's in Sustainability and has made me aware of Sustainably Sourced Seafood.
Vegetables – I added crunchy vegetables such as Red Peppers, Cucumbers, Red Onions, Celery, and Carrots.
Fresh Herbs – Delicious Fresh Chopped Dill
Dressing – Dijon Mustard, Sir Kensington Mayonnaise, Lemon, and Cracked Pepper add a creaminess and zest!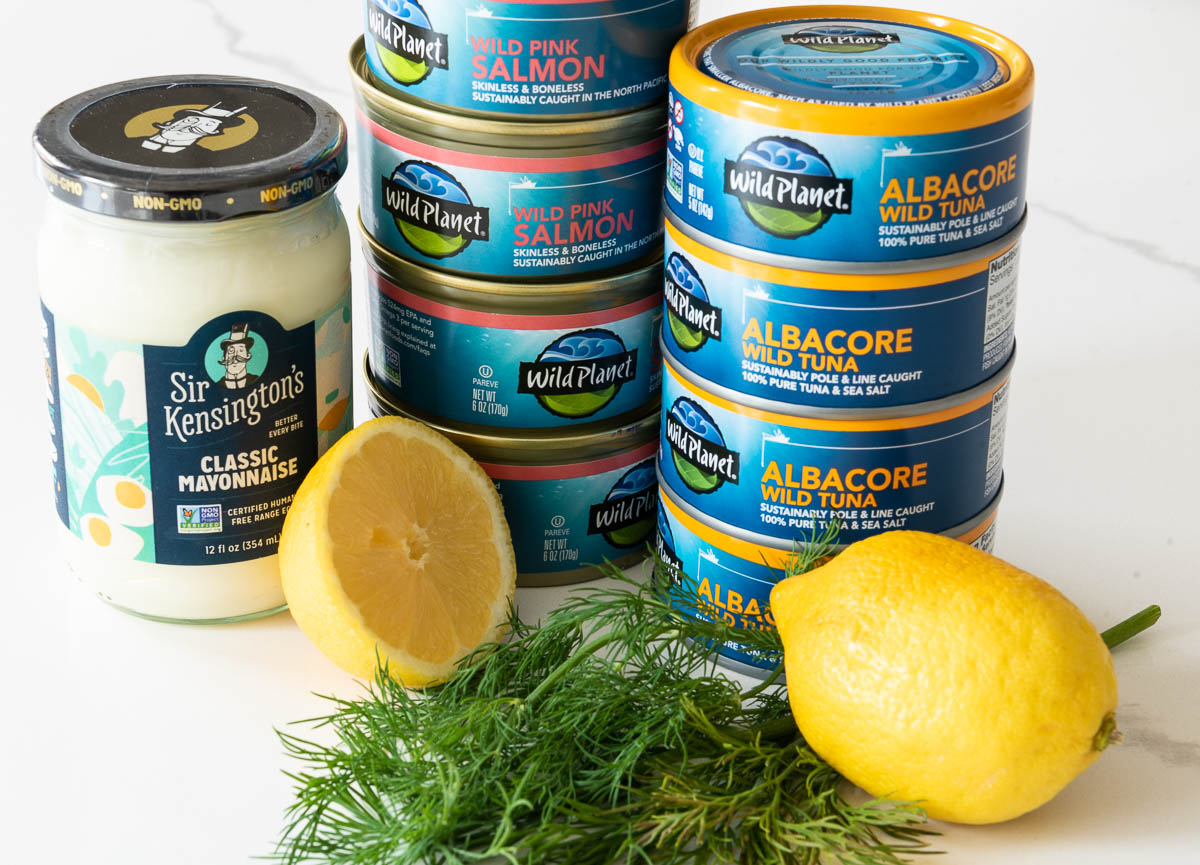 These healthy, tasty ingredients would be delicious as a Tuna Salad or an Egg Salad.
HOW TO MAKE THE DRESSING FOR THE SALMON SALAD
Mix Lemon, Mayonnaise, and Dijon Mustard with Fresh Lemon Juice, Salt, Pepper, and Fresh Chopped Dill in a small bowl until smooth and creamy!
HOW TO ASSEMBLE THE CANNED SALMON SALAD
Place all the chopped vegetables in a large bowl.
Add the creamy salad dressing and chopped Dill.
Add drained Canned Salmon. We used Wild Planet Canned Salmon.
Toss until well combined.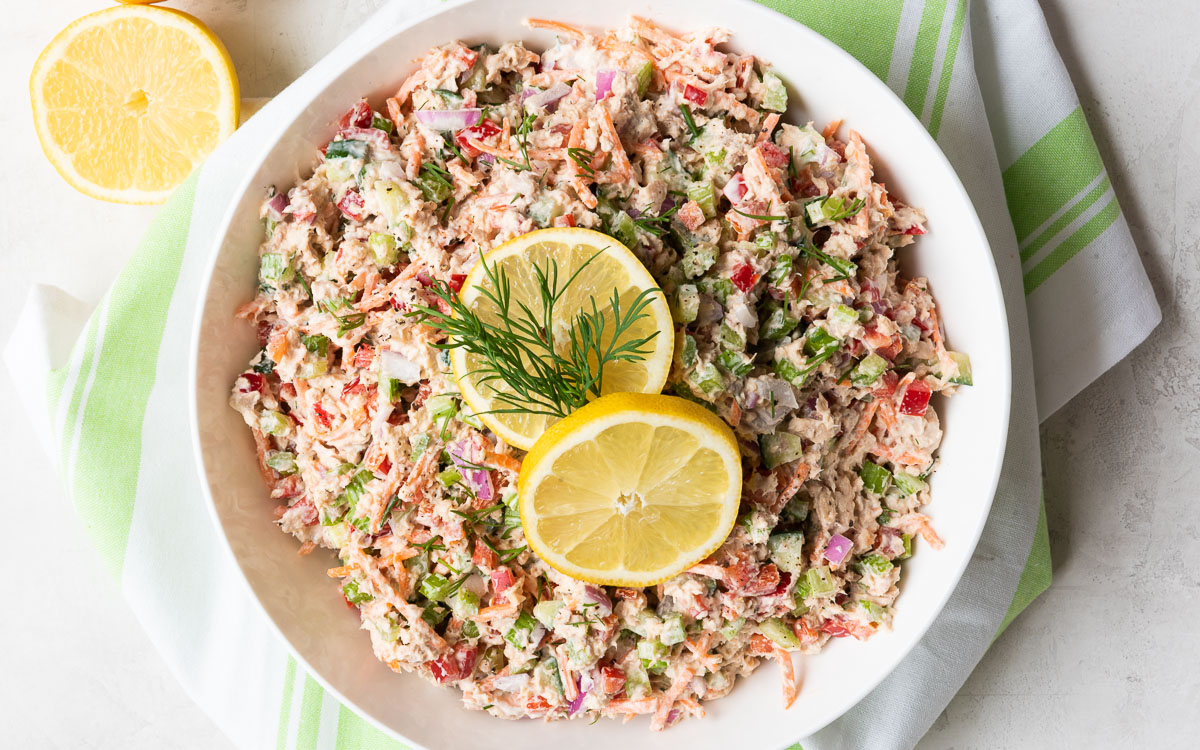 SERVING IDEAS FOR EASY CANNED SALMON MEDITERRANEAN SALAD
I love dipping crackers in the Salmon Salad as I did as a child.
Salmon Salad is delicious in a pita pocket.
Serve layered in a jar with greens and vinaigrette.
Heaped over mixed greens.
Stuffed into a tortilla with avocado and tomato.
Eat Salmon Chopped Salad in a Butter Lettuce Cup for a Paleo Style Meal.
ALTERNATIVE OPTIONS FOR INGREDIENTS
You can use Parsley if you don't have access to Dill.
I used 1/2 cup of Red Onion. If you don't like Red Onions, Chopped Spring Onions or Yellow Onions would work.
You could substitute Greek Yoghurt for the Mayonnaise, but it will change the flavor.
You can also use this Recipe for Canned Tuna.
You can also use Olive Oil Mayonnaise or any Mayonnaise of choice.
Frequently Asked Questions
Can you use canned Tuna in this recipe?
I love this recipe with canned Wild Planet Albacore Tuna or any good quality Canned Tuna.
Can you use Fresh Salmon or Halibut in this recipe?
I have made this Salmon Salad with Fresh Baked Salmon and with Halibut. It's delicious!
Is Canned Salmon as healthy as Fresh Salmon?
Yes! Canned Salmon has the Omega 3 fats and vitamins such as Vitamin D that Fresh Salmon offers. I love that it's so easy to make.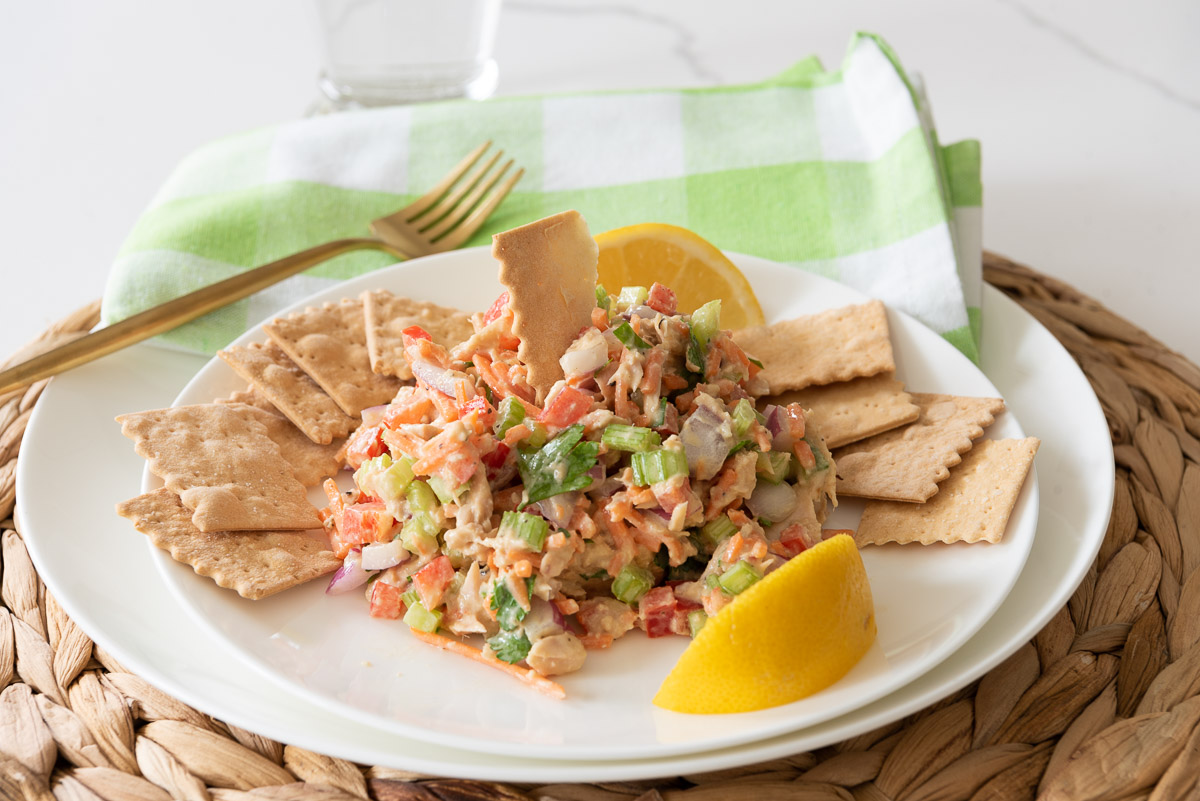 MORE DELICIOUS SALADS FROM THE BLOG
Delicious Chickpea Salad with Mustard Vinaigrette
Delicious Easy Greek Salad Recipe
Print
Easy Canned Salmon Mediterranean Salad
Easy Canned Salmon Mediterranean Salad is a family favorite! Full of healthy chopped vegetables and a creamy fresh dill lemon mayonnaise dressing!
Author:
Prep Time:

15 Minutes

Cook Time:

0 Minutes

Total Time:

15 Minutes

Yield:

6

servings

1

x
Category:

Salad Recipes

Method:

Chopped Salad

Cuisine:

Mediterranean Diet

Diet:

Gluten Free
2 Cans of Wild Canned Salmon without bones
1/2 cup Chopped Red Onion
1 cup Chopped Red Bell Pepper
1 cup Shredded or Chopped Carrots
1 cup Chopped Celery Hearts
1 cup Chopped deseeded Cucumber
Juice of 1/2 Lemon – approximately 1 Tablespoon
1 Tablespoon Chopped Fresh Dill
1/2 cup Mayonnaise – I used Sir Kensington
1 Heaping Tablespoon Dijon Mustard – I used Grey Poupon
Instructions
Salad Dressing: Whisk Mayonnaise, Dijon Mustard, Dill, Lemon, and Pepper in a small bowl until smooth and creamy!
Salad Ingredients: Cut all vegetables into small dice, and place them in a large mixing bowl.
Assemble Canned Salmon Salad: Add Canned Salmon, Diced Vegetables, and Salad Dressing to a large Salad Bowl. Toss well and enjoy!
Serve inside a Pita Pocket, over Mixed Greens, or with good crackers.
Notes
This salad keeps well in the refrigerator for several days. Store in a tightly covered container.
Keywords: Salmon, Mediterranean Diet, Anti-inflammatory Diet, Seafood Salad, Canned Salmon Salad Recipe