Delicious, Easy Greek Salad Recipe
Delicious, Easy Greek Salad with capers and a homemade oregano vinaigrette! Just in time for Barbecue Season! This healthy, Mediterranean Diet style salad will be a family favorite!
What I love about the Mediterranean Diet are the heavenly salads! This EASY Greek Salad has always been one of the top salads in our Delectable Food Life Repertoire. There are so many styles of Greek Salads, and this is my incarnation. I left out the onions and included capers and a delicious oregano vinaigrette. The recipe has extra virgin olive oil, cucumbers, capers, cherry tomatoes, red, yellow, and orange bell peppers, sheep feta, and oregano. It's crunchy, creamy, and very satisfying! Since my husband loves this salad, I make it often. It keeps well in the refrigerator and is a lovely side salad with lunch. Traditional Greek Salad has the same ingredients, but instead of capers has chopped red onion and olives. This recipe lends itself to that variation as well. This salad is nostalgic for me as it was my late father's favorite. When I was a teenager, my Dad would say 'Let's go have a Greek Salad," and we would hop in the car and drive to our favorite restaurant. I loved it as it was a special time for Dad and me. Plus, this salad never fails to deliver.
The blog site My Greek Dish says so beautifully: "Greek salad is also known as "Horiatiki or Xoriatiki" which means Village salad. This means that it is a rustic dish, made simple with a few good quality ingredients. No fancy presentation or preparation needed to impress with this dish. This traditional Greek salad recipe (Horiatiki) is the brightest example of how Greek cuisine takes the simplest ingredients and with literally no effort transforms them into a finger licking dish!"
Ingredients for this Easy Greek Salad
2 large English Cucumbers
Firm Sheep Feta Cheese
Capers
Cherry Tomatoes
4-5 Large Red, Yellow, and Orange Bell Peppers
Olive Oil
White Wine Vinegar (You can also use Red Wine Vinegar)
Oregano
Salt and Pepper
Garlic Powder
Feta Cheese Salad Variations
Add chopped Red Onion
Omit the Capers and use Olives
Use another Feta of your choice
Add Avocado
Use Red Wine Vinegar instead of White Wine Vinegar
Serve over Chopped Greens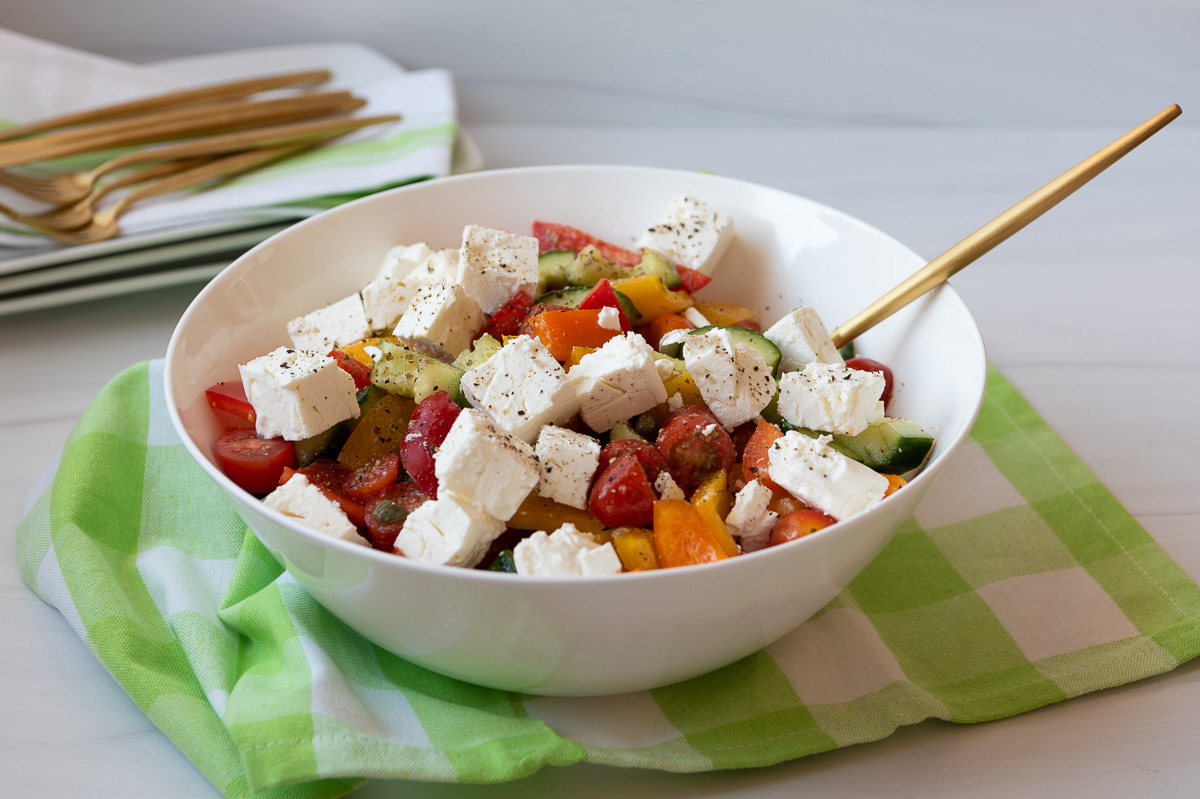 5 Serving Options for this Summery Salad
Serve in a beautiful jar and take on a picnic!
Stuff Greek Salad into a Pita Bread
Serve over chopped greens
Serve as a side dish with grilled salmon
Add Shrimp or Chicken
Serve with our Mediterranean Stuffed Chicken 
Print
Easy, Delicious Greek Salad Recipe
Delicious Greek Salad with Homemade Oregano Vinaigrette. This yummy, healthy salad will be a family favorite!
Author:
Prep Time:

15 minutes

Total Time:

15 minutes

Yield:

8

1

x
Cuisine:

Mediterranean Diet

Diet:

Vegetarian
1/3 cup Olive Oil
2 Tablespoons White Wine Vinegar
1 Teaspoon Garlic Powder
1 Teaspoon Black Pepper
1 Teaspoon Ground Oregano
1 Tablespoon Capers
2 Teaspoons Caper Juice
2 cups Cherry Tomatoes
2 large English Cucumbers de-seeded
4–5 Red, Yellow, and Orange Bell Peppers
14 ounces Firm Sheep Feta
Instructions
Salad: Cut cherry tomatoes in half. De-seed the English cucumber and cut it into half moons or large dice. Cut peppers into large dice. Pat the feta cheese with a paper towel to remove any moisture, and cut it into large cubes. Assemble all salad ingredients in a large bowl with the feta on top.
Dressing: Whisk Olive Oil, Oregano, White Wine Vinegar, Garlic Powder, Black Pepper, Caper Juice, and Capers, and set aside.
Pour salad dressing over the ingredients and gently toss. Add additional salt or pepper as desired.
Notes
*Use any firm feta if sheep is not available
Keywords: Mediterranean Diet, Anti-inflammatory Diet, Greek Salad, Vegetarian