Grilled Garlic and Rosemary Lambchops
Perfect for Barbecue Season. Marinated Grilled Garlic and Rosemary Lambchops. Delicious, easy, and full of rich flavor. Lambchops are an excellent dish for a romantic dinner!
My History with Lambchops
I grew up eating baby Lambchops. My Mom never wanted us to dislike any specific food and started us off as children with Baby Lamb Chops and Peas. I love Lamb in all forms. I have met many people, including my husband, who needed to gain experience with Lamb or found it too gamey. The first time I cooked for my husband, I made him Lamb Stew, and he acted as if he loved it. Later when I offered to make it for him again, he confessed he did not like Lamb. Since then, Steve has become a convert with recipes like this one. This type of recipe is so delicious and versatile. Grilling the marinated garlic and rosemary Lambchops sears the outside and creates these juicy, delicious results. Also, the flavors of garlic and rosemary are so heavenly. I hope you will love these as much as we do!
Lamb – One of the Worlds Most Popular Meats
Lamb is one of the world's most popular meats. Lamb is used in Curry and Tangines as well as roasts and chops. Lamb is also a high-quality protein with highly absorbable iron and B Vitamins.
According to the book Cooking Ingredients by Christine Ingram, "Grilling lamb allows some of the fat to drip away, and the high heat seals sears the outside of the meat and seals in the flavor giving a succulent result.
If you are unfamiliar with the book Cooking Ingredients, it is marvelous for any cook to have in their library. It is a photographic reference guide for cooking and was a gift from my Mom, which I cherish and use almost daily when cooking and writing for Delectable Food Life.
Ingredients for Grilled Garlic and Rosemary Lambchops
1/4 Cup Olive Oil
6 chopped Garlic Cloves – use less if you prefer
2 Tablespoons Fresh Rosemary and a few Rosemary Sprigs for the Garnish
Chopped Parsley for Garnish
1 Teaspoon-Cracked Himalayan Sea Salt
1/2 Teaspoon or more of Cracked Black Pepper
6 Large Lambchops or 8 Small Lambchops (Costco often has New Zealand Lamb)
Combine all ingredients with the Lambchops.
Step 1. Marinate the Lambchops
Place all the ingredients except for the Lamb in a small bowl and whisk until blended. Place the Lambchops in a large bowl or plastic baggies with the Marinade. Shake until coated and marinated for at least 30 minutes or up to 24 hours. If you marinate beyond 30 minutes to an hour, place the Lambchops in the refrigerator.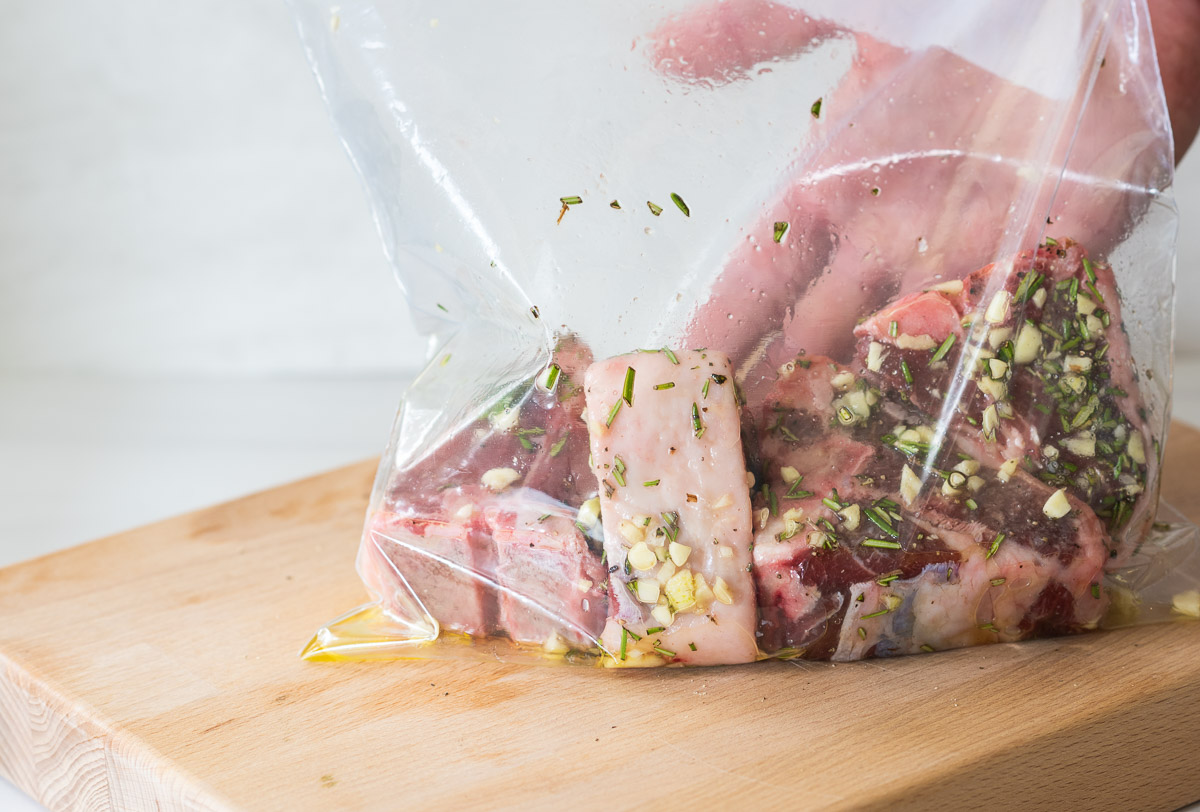 Step 2. Take Your Marinated Lambchops to the Pre-Heated Grill (Heat the grill to 375 degrees)
Bring the marinated Lambchops to room temperature before placing them on the preheated grill.
Step 3. Grill the Lambchops on Medium Heat
On a pre-heated Grill, Cook your Lamb for about 3 – 4 minutes per side until the internal temperature is 135 for Medium Rare and 145 for Medium. We always use an instant-read thermometer. Close the grill lid while cooking and keep a close eye. The exact time will differ depending on the thickness of the Lambchops. A thicker chop like the photograph above will take longer than baby lamb chops.
Remember, the lamb chops keep cooking when they come off the grill.
Be careful not to overcook the lamb chops, or they will dry out and lose flavor.
Cover with foil and let REST for 5 minutes while the juices absorb!
Common Questions About Grilling Lamb
Can you overcook Lamb? Yes, it will become tough and fibrous when overcooked.
How do you know when Lamb is cooked? We ALWAYS temperature test our meat and poultry for safety.
Does Lamb keep cooking when resting? It will keep cooking slightly.
Where do you put a Meat Thermometer in Lamb? Put the Thermometer in the thickest part of the Lambchop.
How long should Lambchops rest after grilling? Tent the meat loosely with foil and let rest for 5 minutes.
Can you over-marinate Lamb? Yes! 24 hours is the longest. Generally, I marinate Lamb for 30-60 minutes.
What other herbs go well with Lamb? Mint, Oregano, and Thyme also go well with Lamb.
Can you cook your Lambchops in the Oven? Absolutely! You can also pan-sear them and finish cooking them in a 375-degree oven.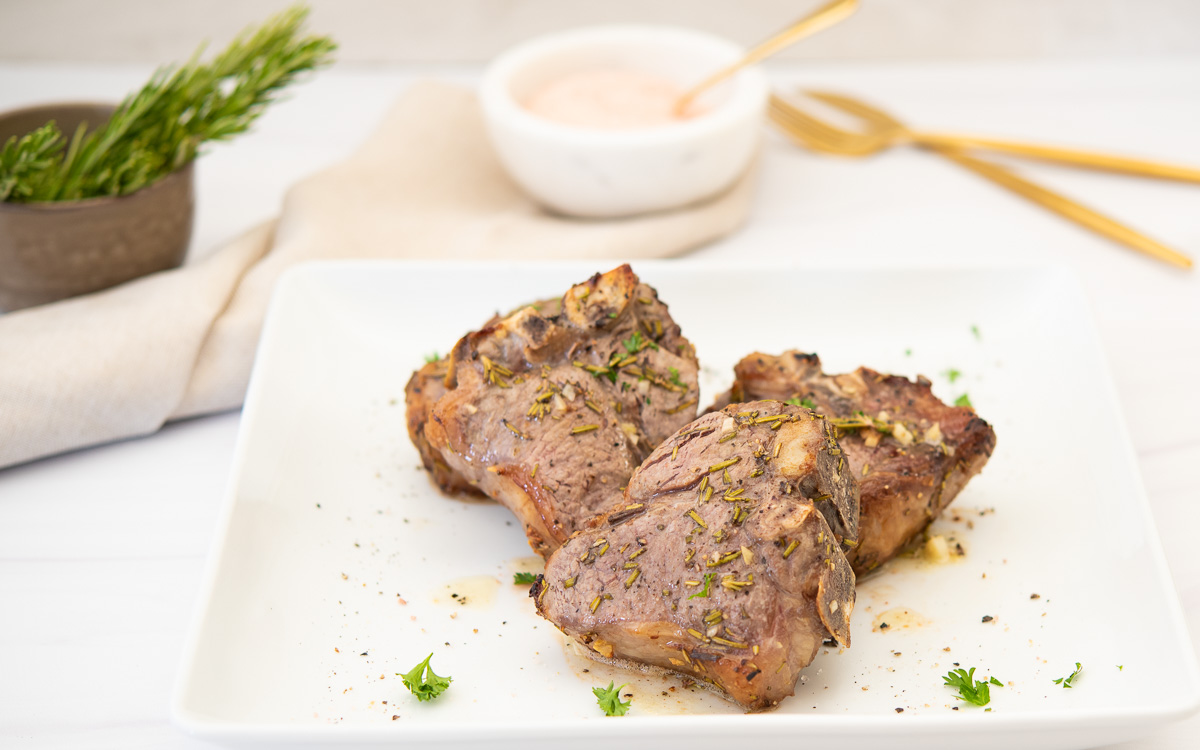 What to Serve with Grilled Garlic and Rosemary Lambchops
We love Roasted Potatoes with Garlic
Oven Roasted Asparagus or Broccoli
Roasted Cherry Tomatoes and Garlic Recipe – Here's our recipe!
Mayonnaise Dijon Mustard Sauce – Mix a 1/2 cup of good Olive Oil Mayo with 1 tablespoon of Dijon Mustard and the Juice of 1/2 Lemon. Add 1/2 Teaspoon of Cracked Black pepper. Whisk until Smooth!
Green Peas – Peas and lamb go together like a horse and carriage! My husband's kinship love of peas made me love him even more.
These would also be wonderful with homemade potato salad or a Greek Salad!
I hope you enjoy our Grilled Garlic and Rosemary Lambchops at your next Barbecue!
Print

Grilled Garlic and Rosemary Lambchops

Perfect for Barbecue Season! How about a Marinated Grilled Garlic and Rosemary Lambchop? Delicious, easy, and full of rich flavor!

Author:
Cook Time:

10 Minutes

Total Time:

10 minutes

Yield:

6

Chops

1

x
Method:

Grill

Cuisine:

Mediterranean Diet

Diet:

Gluten Free

1/4

cup

Olive Oil

6

Cloves Chopped Garlic – use less if you prefer

2 Tablespoons

Fresh Rosemary

1 Teaspoon

-Cracked Himalayan Sea Salt

1/2 Teaspoon

or more of Cracked Black Pepper

6

Large Lambchops or 8 Small Lambchops (Costco of

ten

has New Zealand Lamb)

Instructions

Place all the ingredients and the Lambchops in a glass bowl or plastic baggies. Shake until coated and marinate for at least 30 minutes or up to 24 hours.

Place Lambchops on a preheated grill for approximately 7-10 minutes turning lamb over after 4 minutes. Remove from the grill when the lamb's internal temperature reaches 135 – 145 degrees, depending on how well you want them cooked and how thick the Lambchops.

Notes

Serve with Roasted Potatoes and Vegetables—pairs well with Mayo Dijon Sauce.

Mayonnaise Dijon Mustard Sauce – Mix 1/2 Cup of good Olive Oil Mayo with 1 Tablespoon of Dijon Mustard and Juice of 1/2 Lemon. Add 1/2 Teaspoon of Cracked Black pepper. Whisk until Smooth!

Keywords: Mediterranean Diet, Gluten-Free, Barbecue Lamb