Easy Delicious Gluten-Free Fresh Peach Crumble
This post contains links to affiliate websites, such as Amazon, and we receive an affiliate commission for any purchases made by you using these links. We appreciate your support!
Easy, Delicious, Gluten-Free Peach Crumble full of Juicy, Syrupy Peaches and a Sweet, Buttery Crumble Topping.
Perfect for entertaining or a summery family dessert.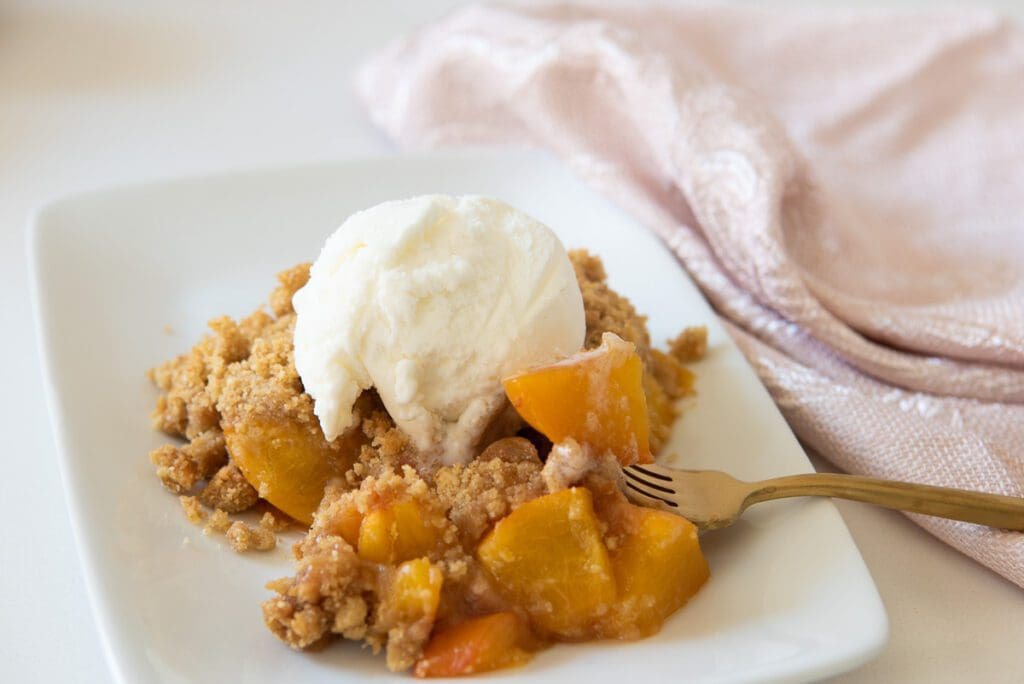 Some call this recipe a Crumble; some call it a Peach Crisp! Either way, it's lovely with the warm, gooey, juicy peaches and crispy, crumbly sweet buttery topping! This type of recipe lends itself to the gluten-free repertoire. It's almost a no-fail type of dessert. Also, this recipe is lovely to make year-round, especially during Peach Season!
Crisps or Crumbles are my go-to dessert when having guests. Also, it's easy to make this before guests arrive and quickly reheat it before serving. Put out some good vanilla ice cream and let everyone dive in! This recipe can be made with almost any seasonal fruit. The best part is your whole house will smell like vanilla peachy goodness!
Ingredients for Gluten-Free Peach Crumble
Fresh Peaches
Unsalted Butter
Cup for Cup Gluten-Free Flour
Tapioca Flour or Tapioca Starch – to thicken the peach filling
Light Brown Sugar
Pure Vanilla
Sea Salt
Fresh Lemon Juice
Variations on this Gluten-Free Peach Dessert
Make this recipe with a Tablespoon of Cinnamon in the filling.
Add a Tablespoon of Brandy to the Filling. Brandy is Gluten Free whereas Cognacs may have Gluten.
Replace 1/2 Cup of the Cup 4 Cup Flour with Almond Flour
Use Nectarines instead of Peaches.
Use Vegan Butter instead of Dairy Butter and create a Gluten-Free Vegan Peach Crisp.
Use Honey instead of Brown sugar in the filling.
Replace some of the flour with rolled Oats.
How to Make Gluten-Free Peach Crumble
Step 1 – Wash and Cut the Fresh Peaches
Cut peaches by scoring on all four sides. If you cut down to the pit and twist, the flesh will separate from the peach pit. Pull the beauties apart and cut them into 1-inch bite-size pieces. Make sure your peaches are ripe. You will smell the peach aroma; they should be slightly soft.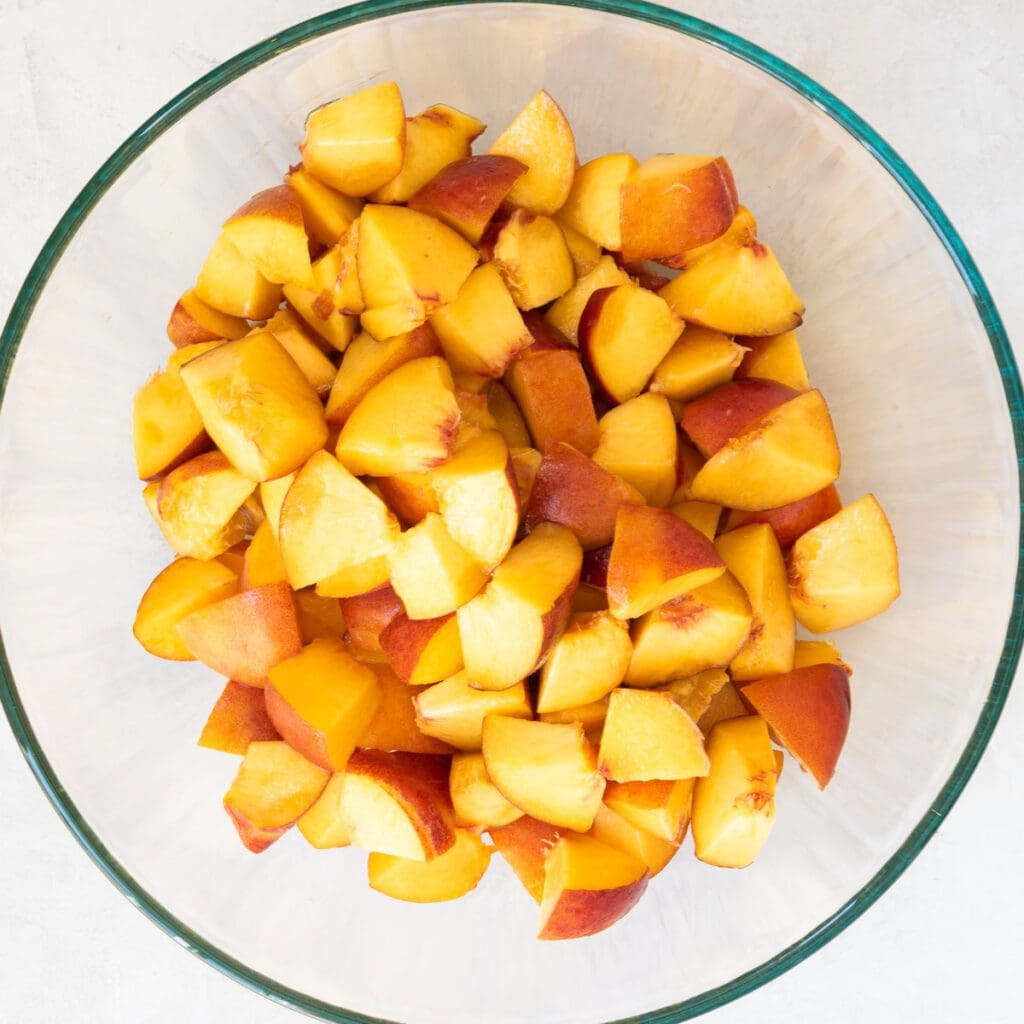 Step 2 – Prepare the Peach Filling
Step 3 – Melt the Butter and Make the Peach Filling
a. Melt Butter in Sauce Pan over low heat. Set aside
b. For the Peach Filling: Combine fresh-cut Peaches with Tapioca Starch (Thickens the Filling), Brown Sugar, Vanilla, One Tablespoon of Melted Butter, and Lemon Juice in a large mixing bowl—then pour into a Baking Pan.
Step 4 – Combine Dry Ingredients for Topping
Mix Gluten-Free Flour, Brown Sugar, and Salt in a Large Mixing Bowl.
Step 5 – Combine Wet and Dry ingredients
Combine Butter, Lemon, Vanilla, Gluten-Free Flour, Salt, and Brown Sugar. Place this mixture on top of the peaches spreading evenly. It's ok if some beauties are peeking out around the edges. The Peaches will bubble up around the edges as the Crumble bakes. To me, that's the magic!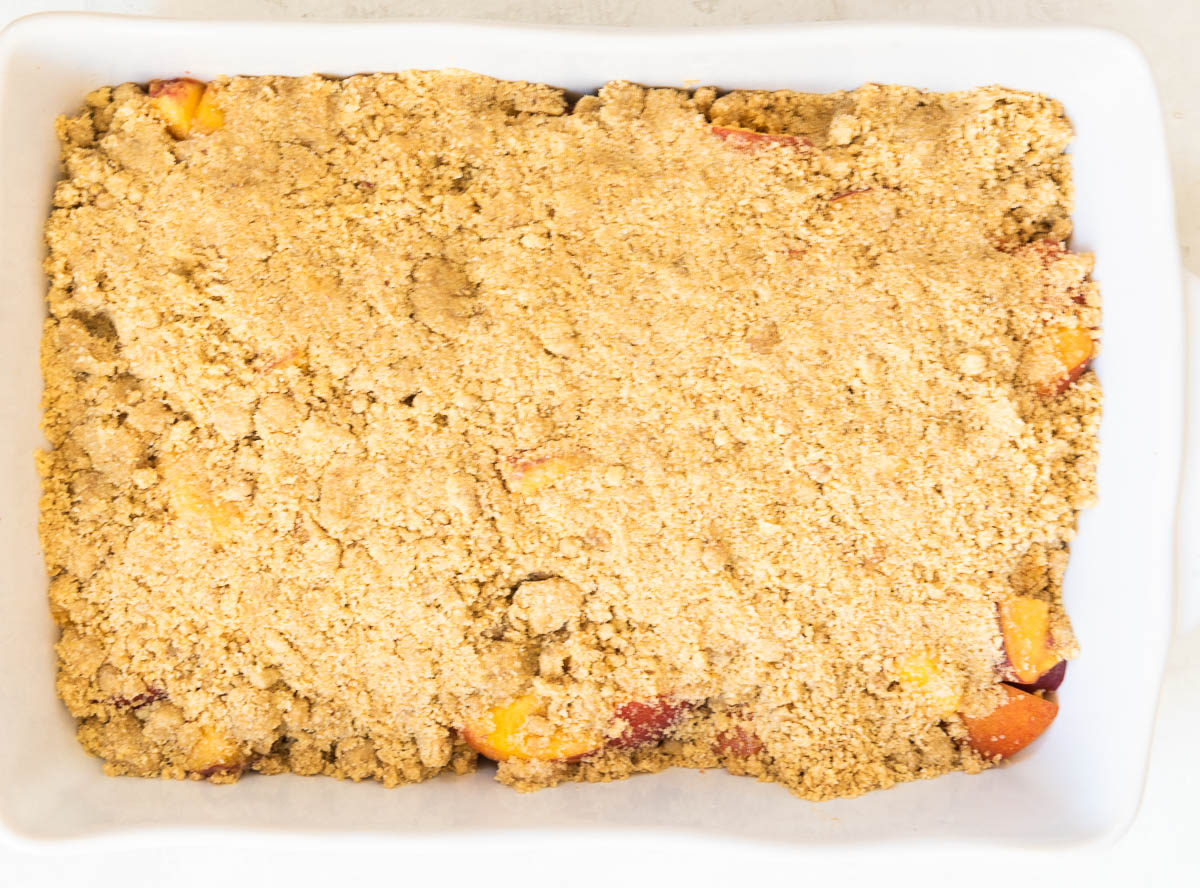 Step 6 – Bake the Peach Crumble
Bake in the pre-heated 350-degree F. oven for 30-45 minutes until the Peaches are bubbling and the Crunch topping is golden brown. The edges of the pan will be bubbling with the syrupy peach filling.
How to Serve this Summery Peach Dessert
Serve with Vanilla Ice Cream or Coconut Ice Cream
Serve with Homemade Whipped Cream
Serve this with Ice Cream and a drizzle of Butterscotch Sauce – very decadent.
Serve with Chopped Almonds. Almonds and Peaches are great together!
Notes
What's the difference between a Crisp and a Crumble?
Crumbles are similar to Crisps, but the topping is thicker and crumblier. They are so similar that many recipes cross over.
Can you make this GF Peach Crumble with Frozen Peaches?
You can make this Crumble with frozen peaches if you defrost them before using. I would not recommend Canned Peaches.
How do you re-heat Peach Crumble?
You can re-heat this Peach Recipe loosely covered with foil in the Oven at 350 for 8-10 minutes. Alternately, Microwave individual servings for 45 seconds to one minute.
What is Tapioca Flour in the Filling?
Tapioca Flour or Starch made from the Cassava Plant will be your new best gluten-free baking friend! It's perfect for thickening fillings and sauces, gravies, and more. Think Thanksgiving gravy, pies, crisps, etc. Works perfectly.
Can I add Blueberries to this Recipe?
Yes! Blueberries and Peaches go together like a 'horse and carriage'! Then you have Peach Blueberry Crumble. YUM!
I hope you enjoyed this recipe. If you make it, I invite you to share a review for other readers to enjoy. Thanks for stopping by Delectable Food Life!
Print
Easy, Delicious, Gluten-Free Fresh Peach Crumble
Easy, Delicious, Gluten-Free Peach Crumble full of Juicy Peaches, Vanilla, and Warm Buttery Sweet Crumble Topping, Perfect for entertaining or a summery family dessert.
Author:
Prep Time:

15 Minutes

Cook Time:

30 Minutes

Total Time:

45 Minutes

Yield:

8

1

x
Category:

Desserts

Method:

Bake

Cuisine:

American

Diet:

Gluten Free
9

Large Fresh Ripe Peaches

1 1/2

Sticks Unsalted Butter

1 1/2 Cups

of Cup for Cup Gluten-Free Flour

2 Tablespoons

Tapioca Flour or Tapioca Starch – to thicken the peach filling

1

and 1/4 Cup Light Brown Sugar

2 Tablespoons

of Pure Vanilla

1/2 Teaspoon

Sea Salt

2 Tablespoons

Fresh Lemon Juice
Instructions
Pre-heat Oven to 350 F. 
Make the Peach Filling: 
Step 1– Cut the Peaches by scoring them down to the pit. Twist the peach and remove the peach flesh. Cut into even bit size pieces. 
Step 2 – Add Peaches to a large bowl with 1/4 Cup Light Brown Sugar, 2 Tablespoons of Tapioca Flour (I used Bob's Mills), 1 Tablespoon of Lemon Juice, 1 Tablespoon of Vanilla, and 1 Tablespoon of melted Butter. 
Combine Peaches and Pour this mixture into a 9 x 13 Baking Dish. 
Make the Crumble Topping:
Step 1 – Melt One and 1/2 Sticks of Butter over a Low Flame. Remove and let cool. 
Step 2- Add 1 Cup Light Brown Sugar, 1 1/2 Cups Gluten Free Flour (I used Cup 4 Cup), 1/2 Teaspoons of Sea Salt to Large Bowl. Combine. 
Step 3 – Add the Melted Butter, 2 Tablespoons of Vanilla, and 1 Tablespoon of Lemon Juice to the Dry Ingredients. Combine well. It will be crumbly. 
Step 4 – Place Crumble Topping onto the Peach Mixture. Press down slightly. It's ok to see peaches around the exterior. The syrupy peaches will bubble around the edges while baking. 
Bake for 30 minutes until Topping is Golden Brown and the edges are bubbling. You can pierce a peach to check for doneness. This is where I always take a bite. YUM! 
Notes
Serve this delicious Crumble with Vanilla Ice Cream. 
This recipe yields 8-12 Servings, depending on your serving size. I usually double this recipe for a crowd, as many come back for seconds. 
Keywords: Peach Dessert, Gluten-Free, Gluten Free Desserts, Gluten-Free Fresh Peach Crumble