Healing Power of Simple Ginger Tea
Making homemade Ginger Tea is EASY, and Ginger has been used for its healing power through the millennia. This simple Ginger Tea Recipe can be made year-round and enjoyed hot and cold. Discover the healing power of simple ginger tea.
Note- Always check with your doctor before using new herbs and supplements.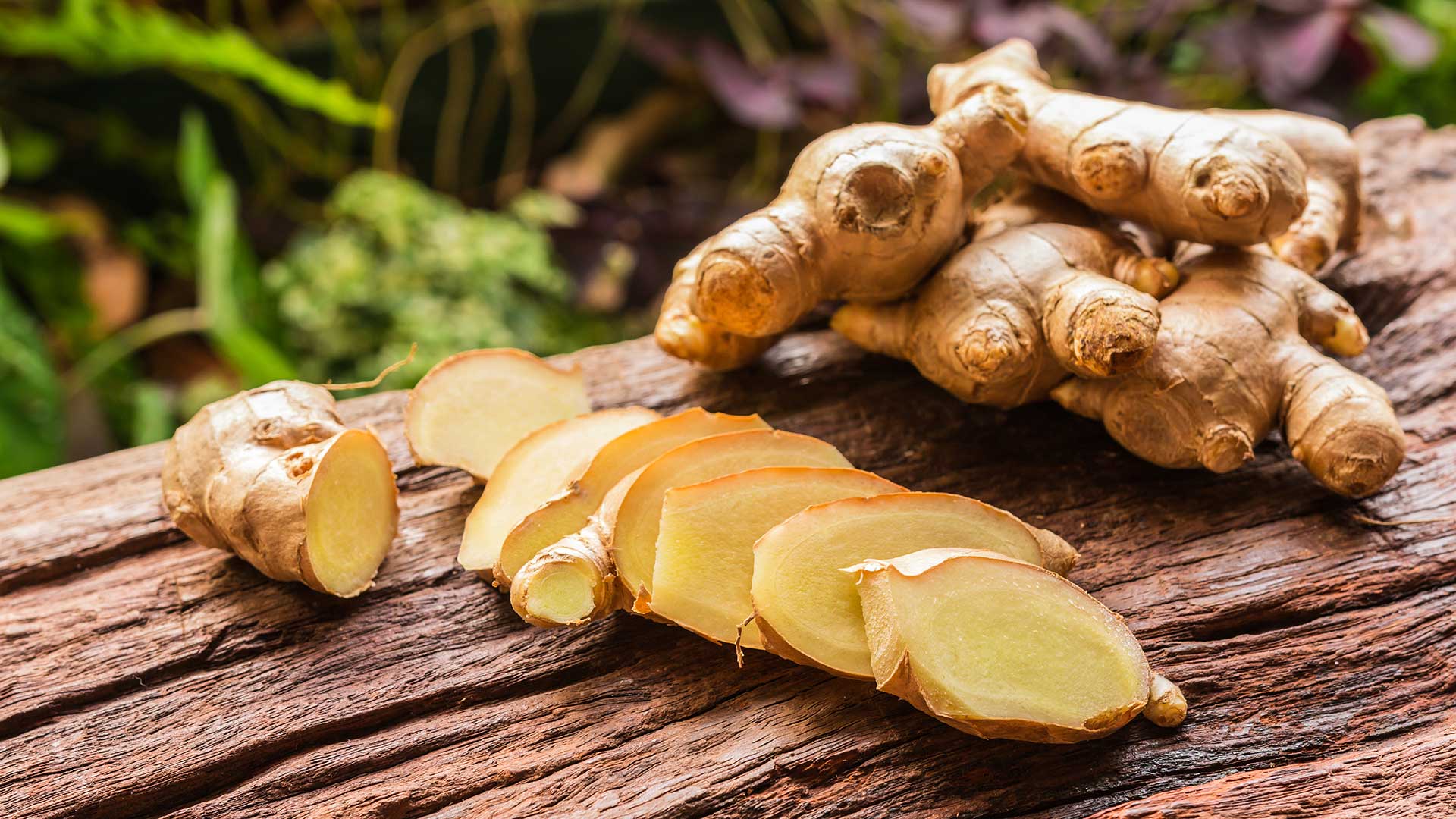 My Adventure with Ginger Tea
My whole adventure with ginger began while searching for a healthy anti-inflammatory beverage. I was looking for some non-caffeinated drinks to keep in the house. I love ginger, so I searched for an all-natural ginger ale. Unfortunately, I could not find bottled ginger ales in our local grocer that did not include 'natural flavor.' So, since I strictly avoid 'natural flavors,' I told my hubby: "That's it! We are making our own!".
Also, homemade ginger ale contains much less sugar. Steve and I now make a large pot of ginger tea every week. It's effortless and refreshing, and knowing it has powerful anti-inflammatory properties makes it all the better. In addition, fresh, raw ginger is available at most grocers.
How to Make Ginger Tea – Step-by-Step
It's so easy!
Step 1– Wash and scrub the ginger root and slice it into 1/2-inch slices. There is no need to peel it. Scrub raw ginger with a vegetable brush or the rough side of a clean sponge.
Step 2 – Put 2 cups of roughly sliced Ginger in a pot with 8 cups of water. Bring to a boil and then lower to simmer for two minutes.
Step 3 – Turn off the flame and let the ginger steep in the water for 30 minutes. Strain through a colander.
Either serve it hot or cool and strain it into a glass container. You can add honey or maple syrup or drink it straight. It's very refreshing mixed 50/50 with sparkling water or over ice.
Anti-inflammatory Benefits of Ginger
Ginger has anti-inflammatory gingerol compounds and potent phytochemicals that contain antioxidant properties. Used for centuries in China and Ayurvedic Medicine as a treatment for arthritis, ginger is being researched widely for its ability to lower inflammation in other diseases such as cardiovascular disease, cancer, and migraines. There are at least 40 antioxidant compounds in ginger. In addition, it safely prevents nausea and can soothe an upset stomach. Since many people on the gluten intolerance spectrum experience digestive issues, having ginger tea is always welcome. Ginger's anti-inflammatory components can be beneficial.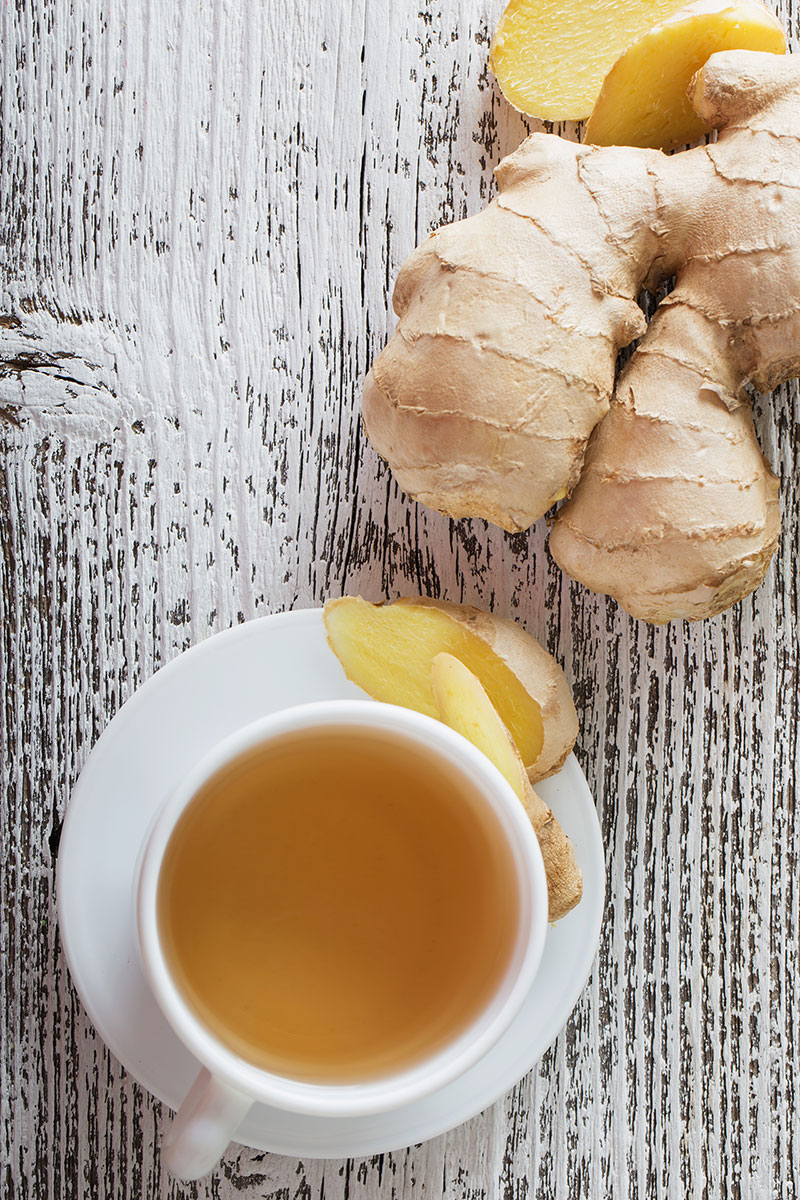 Ginger and Headaches
In his infamous website https://www.NutritionFacts.org, Dr. Michael Gregor discussed a study where ginger has proved effective in aborting migraine compared to sumatriptan. Dr. Gregor stated: "Efficacy of ginger powder and sumatriptan was similar. The clinical adverse effects of ginger powder were less than sumatriptan. Patients' satisfaction and willingness to continue did not differ. The effectiveness of ginger powder in the treatment of common migraine attacks is statistically comparable to sumatriptan. Ginger also poses a better side effect profile than sumatriptan."

Dr. Michael Gregor
6 Simple Benefits of Healing Ginger Tea
Ginger is fantastic to bring when traveling. I always carry ginger tea bags and Ginger Capsules.
Sip on ginger tea anytime you have an upset stomach. It usually settles it right down.
Ginger is excellent for headaches and nausea.
I constantly sip ginger tea when I have a cold. Its anti-inflammatory benefits help the body heal.
It's delicious, vegan and gluten-free!
HIMALAYA ORGANIC GINGER CAPSULES
My favorite encapsulated ginger is Himalaya Organic Ginger. I like this brand as it does not burn my stomach.
*Notes – Always check with your doctor and pharmacist before taking new supplements.
More Anti-inflammatory Recipes You Might Enjoy!
Thanks for stopping by! I would love to hear from you if you make this healing ginger tea recipe. Other
recipes that quell inflammation are Delicious Blueberry Anti-inflammatory Smoothie Recipe – Delectable Food Life
Print
Healing Power of Simple Ginger Tea
Healing, Soothing Ginger Tea is not only delicious but very comforting. This is a great beverage when ill or with an upset stomach.
Author:
Prep Time:

5

Cook Time:

30

Total Time:

35

Yield:

8

1

x
Category:

Beverages

Method:

Boil

Cuisine:

Anti-inflammatory Diet

Diet:

Gluten Free
2 cups chopped fresh ginger
8 cups water
2 –4 Tablespoons honey or maple syrup optional
Instructions
Scrub ginger with a brush and cut into ½-inch slices exposing the raw ginger. There is no need to peel the ginger.
Bring water to a boil and add ginger. Simmer for 2 minutes, and then turn off the heat. Let the ginger steep for 30 minutes until the water is golden. Pour through a mesh strainer into a glass container to store ginger tea. It keeps well for several days. Serve warm or over ice (my favorite)! You can also mix this infusion with sparkling water.
Notes
You can serve ginger tea, both hot and cold. Enjoy alone or with honey or maple syrup.
Keywords: Ginger, Ginger Health, Gluten-Free
References:
Bode AM, Dong Z. (2011) The Amazing and Mighty Ginger. In: Benzie IFF, Wachtel-Galor S, editors. Herbal Medicine: Biomolecular and Clinical Aspects. 2nd ed. Boca Raton (FL): CRC Press/Taylor & Francis. Chapter 7. PMID: 22593941.
Gregor, M. (2017) Extracted from Ginger Root for Migraines | NutritionFacts.org
Shadop, A., Lyngdoh, Y.A. & Singh, S.K. (2018) Ginger as an Alternative Medicine to Urban Population – A Review., New Delhi, India., Department of Horticulture, Lovely Professional University
Kafeshani, M. PhD. (2015) Ginger, micro-inflammation and kidney disease., Isfahan, Iran., Journal of Renal Endocrinology., Nickan Research Institute
Yu- Loung, C., Rasmussen, A.N. & Hoskin, D.W. (2019) The Phenolic Gingerols and Gingerol-Derived Shogaols: Features and Properties Related to the Prevention and Treatment of Cancer and Chronic Inflammation., Polyphenols in Plants: Science Direct
Maghbooli M, Golipour F, Moghimi Esfandabadi A, Yousefi M. (2014) Comparison between the Efficacy of ginger and sumatriptan in the ablative treatment of the common migraine. Phytother Res. 2014 Mar;28(3):412-5. doi: 10.1002/ptr.4996. Epub 2013 May 9. PMID: 23657930.
Shadop, A., Lyngdoh, Y.A. & Singh, S.K. (2018) Ginger as an Alternative Medicine to Urban Population – A Review., New Delhi, India., Department of Horticulture, Lovely Professional University