Easy Luscious Whipped Ricotta Recipe
Easy, entertaining ideas. Luscious, creamy Whipped Ricotta with honey and chopped pistachios. The perfect Mediterranean Dessert! Dessert Boards are a great conversation starter.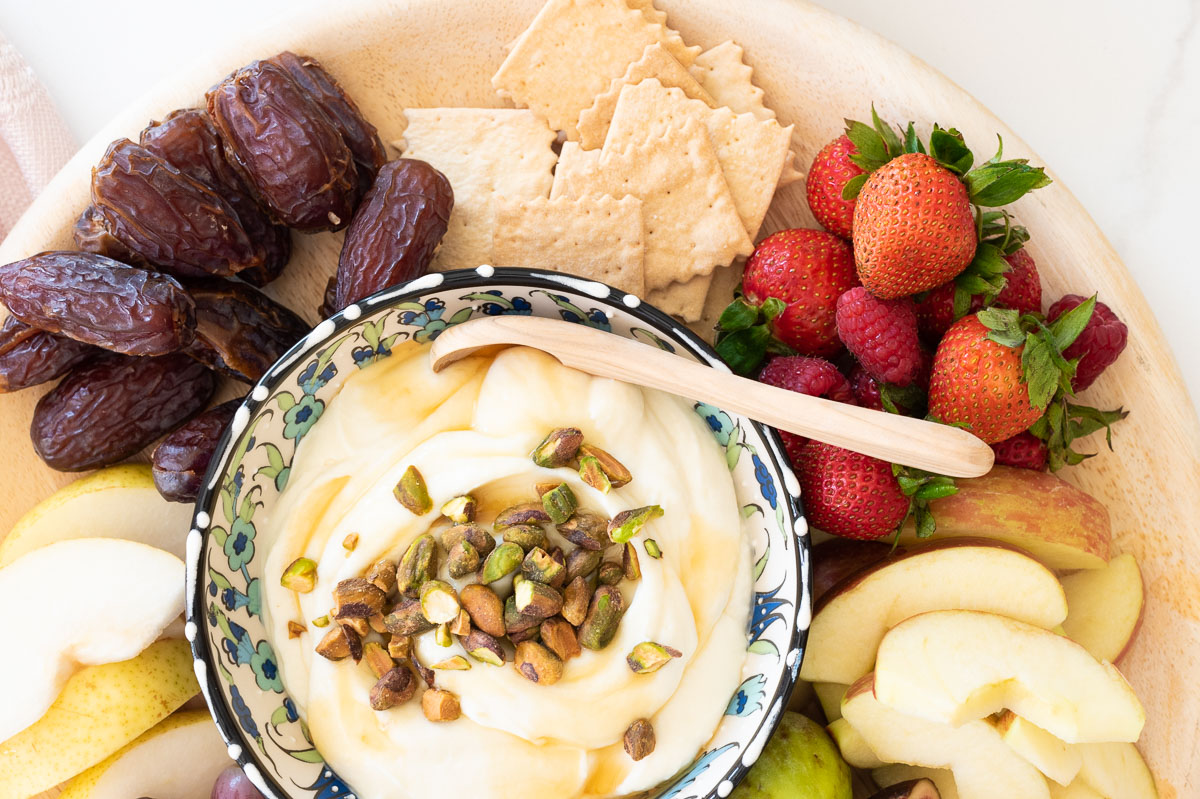 Ricotta is delicious but whipped into a creamy dip; it is heaven! It makes a fantastic appetizer or Mediterranean-style dessert board. This Whipped Ricotta recipe comes together in ten minutes. What's beautiful about creating a platter or board is it takes mindful care and attention. The careful placing of fruits and cheese, deciding what goes where, is a joy unto itself. I can picture my family as they ooh and ahh over the presentation.
Buy the best Whole Milk Ricotta possible. It makes a difference. Many manufacturers take shortcuts now and add Carageenen and Gums. Who needs that? The consistency is not the same and if you taste

many ricottas you will notice the difference. I love Organic Valley. I also look for imported Italian Ricotta which usually is free of fillers.
Ricotta is an Italian cheese made from the watery parts of cow, goat, sheep, or Italian water buffalo milk that are left over from making other cheeses. Ricotta has a creamy texture often described as a lighter version of cottage cheese.
A 1/2-cup (124-g) serving of whole-milk ricotta contains:
Calories: 186
Protein: 9 g
Fat: 13 g
Carbs: 9 g
Sodium: 6% of the DV
Calcium: 20% of the DV
Common Culinary Uses of Ricotta

"Like mascarpone in northern Italian cuisine, ricotta is a favorite component of many Italian desserts, such as cheesecakes and cannoli. Also, a variety of different cookies include ricotta as an ingredient.

Ricotta can be beaten smooth, mixed with condiments, such as sugar, cinnamon, orange flower water, and occasionally chocolate shavings, and served as a dessert. This basic combination (often with additions such as citrus and pistachios also features prominently as the filling of the Sicilian cannoli and layered with slices of cake in Palermo's cassata.

Combined with eggs and cooked grains, then baked firm, ricotta is also a main ingredient in Neopolitan pastiera, one of Italy's many "Easter pies."

Ricotta is also commonly used in savory dishes, including pasta, calzone, stromboli, pizza, manicotti, and ravioli."
Ingredients in Whipped Ricotta
Whole Milk Ricotta Cheese – buy the BEST!
Honey – Look for local honey
Olive Oil – Adds a creamy texture
Chopped Pistachios – that salt against the sweet – Yum!
Whipped Ricotta Platter
Whipped Ricotta Drizzled with Honey and Chopped Pistachios

Fresh Figs whole or cut in half

Apples – sliced

Pears – sliced

Grapes

Bread – toasted or fresh

Crackers

Strawberries

Medjool Dates – seedless

How To Make Whipped Ricotta
Put 16 ounces of Whole Milk Ricotta, 2 Tablespoons of good Olive Oil, and 1 Tablespoon of Honey in a High- Speed Blender or Mixer.
Blend until smooth and creamy, about 2 minutes. Scrape down the sides of the blender if needed. Remove from the blender with a rubber spatula.
Keep chilled while preparing the platter. Remove 5 minutes before serving.
Serving Ideas
Serve with a toasted sliced baguette
Serve with sliced pound cake and strawberries
Delicious over waffles or pancakes
Serve with sliced peaches on a piece of toast
Lovely for breakfast with fresh fruit
Serve at a dinner party with our Chicken and Herbs de Provance
Variations on Whipped Ricotta
Whip the Ricotta with Lemon and Sea Salt
Whip the Ricotta and top with savory herbs like Basil and Rosemary
Serve your Whipped Ricotta with Balsamic Syrup and top with chopped Tomatoes, Garlic, and Basil
I hope you enjoy making this lovely, versatile recipe for your family and friends!
Print
Lucious Whipped Ricotta
Lucious, Creamy Whipped Ricotta with Honey and Chopped Pistachios.
The perfect Mediterranean Dessert!
Author:
Prep Time:

10 minutes

Total Time:

10 minutes

Cuisine:

Mediterranean Diet

Diet:

Vegetarian



16 oz. Ricotta




Honey – 1 – 2 Tablespoons




Olive Oil – 2 Tablespoons




Chopped Pistachios – 1/2 cup




Fresh Figs – 6 Figs whole or cut in half




Apples – 2 sliced




Pears – 2 sliced




Grapes – 1 large bunch




Strawberries – 1 cup




Bread – toasted or fresh




Crackers – regular or gluten-free




Medjool Dates – 6-8 seedless
Instructions
Blend Ricotta Cheese, 2 Tablespoons of Olive Oil, and 1-2 Tablespoons of Honey in a High-Speed Blender or Mixer until smooth and creamy. Top with chopped Pistachios and a drizzle of Honey. Serve with fresh fruit, crackers, toasted bread or baguette, figs, and dates.
Notes
We love serving this at dinner parties for dessert. It's always a hit!
*If preparing beforehand, keep the sliced apples and pears in a bowl with 1/2 lemon squeezed into enough water to cover the fruit.  Prevents oxidation.
Keywords: Mediterranean Diet, Whipped Ricotta, Ricotta Butter Board,