Healthy Vegan Split Pea Soup Recipe
Healthy Vegan Split Pea Soup Recipe with lots of veggies and fresh thyme! Easy-to-make and delicious every time!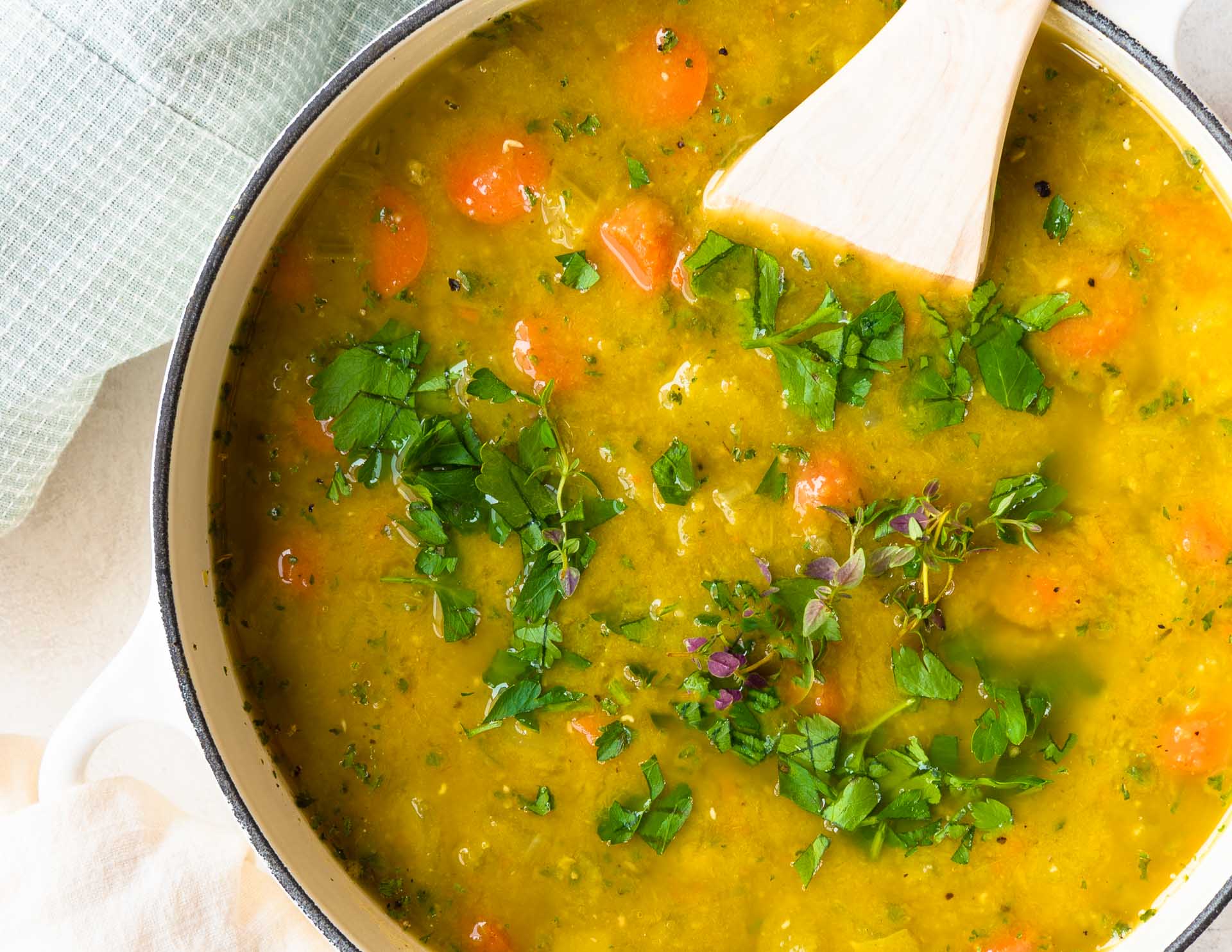 I live in Sonoma County, and the weather has been unseasonably cool for this time of year. Soup has been on my mind, and Split Pea is one of our favs! I tested this Vegan Split Pea Soup recipe several times, and this one was the winner.
I recently discovered Living Herbs. The herbs are packaged in soil, which you can plant after use. This recipe uses a lot of Thyme, and the aroma is heavenly. I just got the soup on the stove and am writing this while I wait for it to cook. I decided to make a Vegan Split Pea Soup as my husband, and I like having a few vegan meals during the week. Although many people like ham in their soup, we don't miss it. Vegan Split Pea soup is still so rich, creamy, and flavorful! It's also nutrient-dense and very low-calorie. Split peas are also very high in dietary fiber and Vitamin K. Also, importantly homemade soups have much less sodium than their canned counterparts. You are in charge of all the ingredients when you cook from scratch. Also, this recipe is suited for a fiber-rich Mediterranean Diet!
According to NutritionFacts.org:
Split peas offer significant levels of protein, iron, zinc, and phosphorus. A diet rich in split peas and other legumes may help reduce cholesterol, hypertension, and the risk of prediabetes, and may also offer significant anti-inflammatory effects.
In this recipe, split peas, carrots, celery, leeks (instead of onions), garlic, and fresh herbs are simmered to perfection.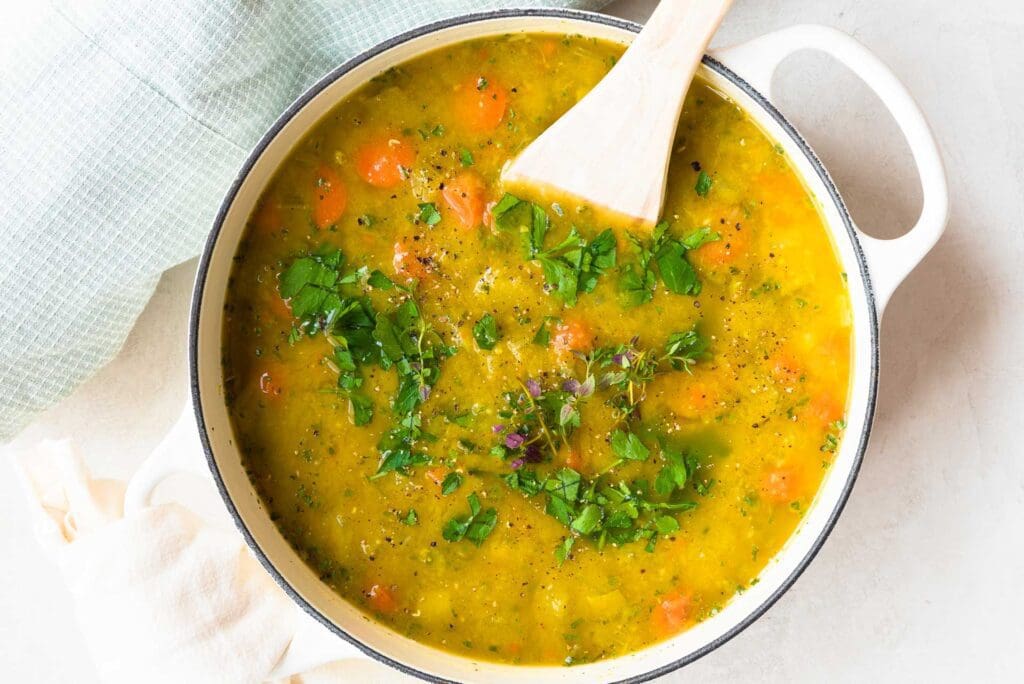 Here is everything you will need:
split peas
creamer potatoes
leeks
garlic
celery
carrots
fresh thyme
oregano
bay leaf
salt and pepper
water
olive oil 
How to make Vegan Split Pea Soup
Add 1-2 tablespoons of olive oil in a large Dutch oven and saute the garlic, leeks, celery, potatoes, and carrots for 3-4 minutes. Add water, peas, fresh herbs, and bay leaves. Simmer for approximately one hour. Peas will be broken down, and the veggies will be soft and tender. Turn off the heat and remove the Bay leaves and Thyme Stems, then add salt and additional pepper to taste. Then, get ready to blend with an immersion blender. (Affiliate Link for a Kitchen Aid Immersion Blender. This is the one I use) Chunky or pureed, this soup is delightful! It's always a trade-off with Steve, as I like my soups chunky, and he likes them smooth.
Healthy Split Pea Soup Recipe Variations
Sometimes you want a slight change, and here are a few ideas:
Add some additional carrots for more healthy goodness!
You can add zucchini in the last 30 minutes.
Yukon Gold Potatoes add even more creaminess.
Serve topped with a spoonful of ricotta or creme fraiche. It's lovely when swirled into the soup.
You can make this with Yellow Split Peas, and it's just as delicious!
If you love soup, you must try our Mediterranean Minestrone Soup!
Print
Vegan Split Pea Soup Recipe
Creamy and comforting Vegan Split Pea Soup full of veggies and fresh herbs.
2 cups

Split Peas

10

small Creamer Potatoes – quartered

2

large Leeks (white and tender light green parts only) – large dice
3 cloves Garlic – small dice

5

stalks of Celery -large dice

4

large Carrots – large dice
Fresh Thyme (1/4 cup fresh on the stem)

1 Tablespoon

dried Oregano

1

Bay Leaf

1/2 teaspoon

Sea Salt (or more to taste)

1 teaspoon

Cracked Black Pepper

8 cups

Water

2 Tablespoons

Olive Oil
Instructions
Put 1-2 tablespoons of olive oil in a large Dutch oven. Saute garlic and leeks for 1-2 minutes. Add carrots, and celery and continue cooking for 2-3 more minutes. Add water, potatoes, fresh thyme, and dried oregano, as well as the Bay leaves.
Simmer on low loosely covered for approximately an hour. Veggies will be tender and peas will break down to mush when pressed with a spoon.
Turn off the heat and remove Bay Leaves and Thyme Stems. Puree the soup with an immersion blender to your preferred consistency.
Notes
This soup keeps well in the freezer. Delicious for lunch or dinner. Serve with warm bread or crackers.
*make sure to remove the Bay Leaf and Thyme Stems before you puree the soup.
Keywords: vegan, vegan split pea soup, split pea soup